Höveler Horse Feed is a traditional brand whose top priority and corporate philosophy is to feed the horse in a way that keeps it healthy and meets its needs. Horses are served equally in the sport and leisure sector. All recipes relates to the latest nutritional knowledge.

With its extensive product portfolio, the Höveler brand can call itself a full-range supplier, where you can find all types of feed, from basic feed to mineral feed and roughage to feed for special requirements and supplements. Every age range from foal to pensioner is considered.

The origin of the company goes back more than 100 years. The Höveler story began in 1905 with Arnold Höveler and his invention of the "Reform Hafer". The first horse feed in the form of muesli, which broke through the then classic hay and oat trend. From then until now, the brand has followed its philosophy of continuously optimizing the horse feed program according to the latest scientific findings. The company is based in Neuss.

What distinguishes Höveler in the horse industry?
The quality of Höveler Horse Feed is known beyond the borders of its home country of Germany. Höveler is one of the largest horse feed manufacturers in Europe and can also be found across the continent, for example in Asia.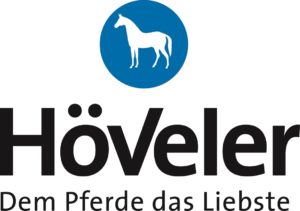 Höveler Horse Feed is a brand of
EQUOVIS GmbH
Industrieweg 110
48155 Münster
Phone: +49 2133 97877-50
Mail: info@hoeveler.com
You can find Höveler at social media:
Höveler is a long-standing partner of the HCCG event series "Expert Meeting For Horse Businesses"